Event name: PARTY IRL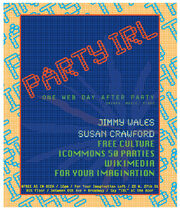 6th Floor
between 5th + 6th ave.
nyc
OneWebDay After Party and iCommons 50 Parties NYC iCommons 50 Parties / OneWebDay / For Your Imagination
Saturday, September 22, 2007 at 10:00pm until 3AM
Interested in free culture, technology, the Internet, new media, and anything in between? Then we want to Party IRL with you and your friends.
Join us this Saturday, September 22 for a free beer, free music party with hosts Jimmy Wales (Wikipedia) and Susan Crawford (OneWebDay).
We'll have video and music performances, drinks, and cool people.
Use codeword IRL for entry to the loft. http://gawc.blogspot.com
Ad blocker interference detected!
Wikia is a free-to-use site that makes money from advertising. We have a modified experience for viewers using ad blockers

Wikia is not accessible if you've made further modifications. Remove the custom ad blocker rule(s) and the page will load as expected.